© by Salomo Baal-Shem 2010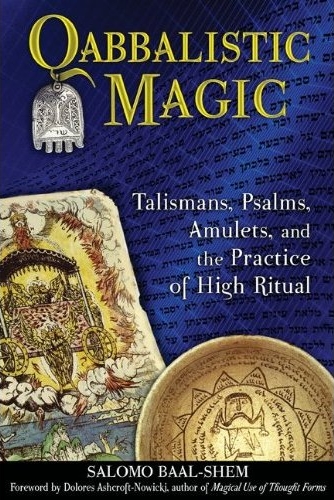 .

The Qabbalah - the Jewish esoteric tradition - is richly woven with magical practices, from amulets and magic bowls to invocations and magical use of psalms. In this comprehensive and practical guide to Qabbalistic magic, Salomo Baal-Shem explains how to authentically perform rituals from the Qabbalistic tradition. The spells and rituals included range from basic "everyday" magic for health, prosperity, love, protection, and prophetic dreams to advanced high level magic such as invoking the highest angelic powers or creating an astral life-form, or Golem. Revealing the occult teachings of the 4th-century Book of the Mysteries, the magical uses of 150 psalms, and how to harness the power of Hebrew letters in talisman designs, the author also shows you how to contact the Maggid, or Divine inner teacher or attain the spiritual vision of the Merkavah. A thoroughly accessible guide to the magic of the Qabbalah, this book also covers the underlying spiritual principles and history of these powerful magical practices.

Click here to enter our special forum for discussions and questions about this book!
Click here to view additional ressources and information about this book!





Ressources
Chapter 22. Calling down the Shechinah


(More Ressources will be added in the near future. ...)




Correspondence Course in Magic and the Western Mysteries
Free Online Course in the basic Theory and Principles of the Mystical Qabbalah and the Western Mystery Tradition

Click here for: Online Courses and International Forum Ritual Magic Training in Germany (German Language) The Brotherhood of the Eternal Light (About us) Qabbalah Magic Rituals Meditations Events Groups, Lodges and Covens (Worldwide) (in Europe) (in Germany - German Language) Sitemap German Page German Forum Languages (entry page) and much more...

Home





---
We are an internationally recognized mystery school and magical lodge and offer serious magical training based on the principles of the mystical Qabbalah (Kabbalah, Kabbala, Kabala), Hermetic magic and the Western Mysteries. Magical training in an authentic mystery school (or magic school, and/or magical order) of the Western Mystery Tradition is the spiritual and mystical preparation for initiation of the student of the mysteries. Like every true magical lodge or magic school and every true Hermetic order we take training in magic very seriously. We stand in the spriritual tradition of the Rosicrucians and do not only teach the ancient ritual magic (or ceremonial magic), the Egyptian magic, the Celtic magic and the Greek Mysteries, but also the classical pillars of the Hermetik Tradition such as astrology and Tarot.